Solved: Twitter error "Your media file could not be processed"
By Gina Barrow, Last Updated: June 17, 2022
"I can't post videos to my Twitter , but it keeps saying ' Your media could not be processed ' every time I upload a video. What's wrong with it? Twitter or is it my videos? Thanks in advance!"
It's really frustrating when you have tried many times to download the same content but the app won't let you. Much like the recent Twitter bug , where users only get " Your media files could not be processed ".
Maybe this error brought you here, because you are one of the affected users and you couldn't find any solution anywhere. Many solutions have been proposed, but there is still no definitive solution and people are getting more and more frustrated.
Today, we will finally manage to fix this bug. We will find ways to fix this annoying error by looking for the most effective and easy method.
Part 1. What Media Formats Are Supported by Twitter Part 2. 4 Fixes: Twitter "Your Media File Could Not Be Processed" Part 3. Summary
Part 1. What Media Formats Are Supported by Twitter
Twitter is one of the most widely used social networking applications where people around the world interact by tweeting their thoughts and opinions and sharing data like photos and videos for everyone to see. It is also used in business, especially for marketing and advertising.
However, you must follow certain conditions when using Twitter, especially when uploading your media files.
Not all of your videos are approved for uploading to Twitter. Each video must at least meet the application guidelines.
According to this popular app, your photos and videos must meet their criteria to be published online.
For videos, here are the requirements Twitter wants you to meet:
File format: .mp4 and .mov
Resolution: 32 X 32 minimum and 1920 X 1200 maximum; 720p HD video (1280 X 720) recommended
Aspect ratio: 1:2.29 to 2.39:1
Maximum time: 2 minutes and 20 seconds
Maximum frame rate: 40 fps
Maximum video bit rate: 25 Mbps
Now you can check if your video meets any of the above requirements. Otherwise, you can convert or modify the media file to meet the specifications.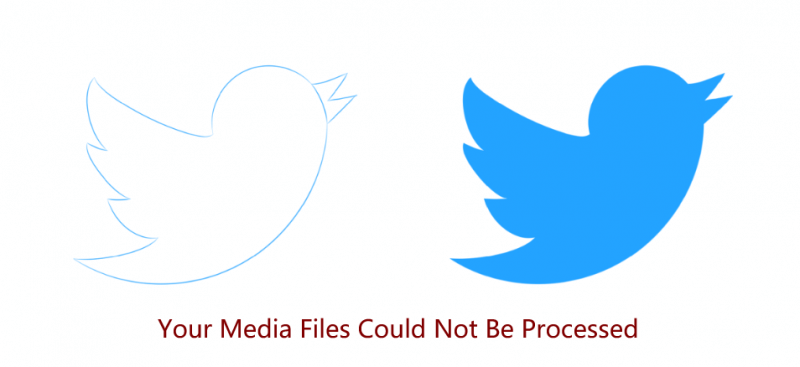 Part 2. 4 Fixes: Twitter "Your media file could not be processed"
Just because you received this error doesn't mean you can't download your video anymore. You may still have a chance of publishing it online as long as you convert it accordingly.
Basically, the only way to fix your Twitter media file processing error is to convert the videos using online programs or apps. Whether you took the video with your mobile phone or a professional camera, you can still edit it with various apps.
Create videos for social networking sites like Twitter, Facebook, etc. requires certain requirements before you can download them successfully. This is mainly because the videos need to be optimized for different platforms such as desktops, tablets, and your mobile device.
Afortunadamente, hay muchas aplicaciones en línea que puede usar para crear videos para cualquiera de estas cuentas de redes sociales. Estas aplicaciones se encargarán de las especificaciones requeridas por cualquier sitio de redes sociales.
Para ayudarlo mejor a comenzar a editar, aquí hay 4 de los mejores editores de video en línea que puede usar para sus publicaciones de Twitter:
freno de mano
Handbrake es un programa descargable de terceros donde puede convertir y editar videos para varios formatos y alinearlo con cualquier plataforma de redes sociales que desee usar.
Simplemente descargue la aplicación y cargue su video para que pueda comenzar a editar. Una vez que haya terminado de editar el video, no olvide habilitar la casilla Optimizado para la Web en el menú Guardar como.
L'activation de cette fonctionnalité ajustera automatiquement tous les formats et styles vidéo en fonction des exigences de Twitter.
La meilleure partie de cette application est qu'elle est gratuite et open source !
ClipChamp Créer
ClipChamp Create vous permet de créer des vidéos incroyables pour les médias sociaux, des vidéos éducatives et des présentations. Il possède sa propre galerie d'images et de modèles où vous pouvez facilement utiliser et modifier sans avoir besoin de rechercher des images intéressantes.
One of its professional features is that you can share the video directly to your social media accounts without downloading the media file to your computer. You can upgrade from a basic free account to a creator account if you want to upgrade. Pricing starts at $9/month.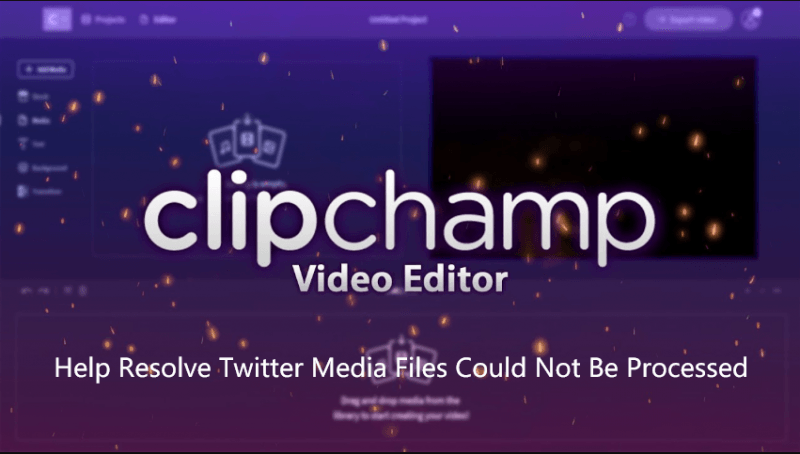 FilmoraGo
FilmoraGo is another video editor that you can use right on your mobile. You don't need to transfer the video to your computer to start editing. Just download the app and start applying cool filters, adjust and enjoy more tools to edit your videos!
FilmoraGo is free and available for iOS and Android.
adobe sparkle
Adobe Spark gives you free templates to use for each category of video you want to use. You can edit your videos on a computer from the Adobe site or you can use their iOS version so you can easily download them to your iPhone and enjoy editing on the go.
You can enjoy all its features for free, but then a watermark appears at the bottom of the screen. If you don't want the watermark to appear, you can upgrade to your premium account and unlock more features.
Part 3. Summary
The reason why Twitter says your media file could not be processed is that your video format or codec is not supported by the platform. The videos should play on any device platform like your mobile, tablet, and desktop seamlessly. This is the reason why they have established this specification.
The good thing is that Twitter has published its media specifications so that its users know what format to use and other requirements. You can still edit your video by following the instructions in the app.
However, if you have videos that you want to share on Twitter but they don't meet the specifications above, you can use one of the 4 video editing software we recommend.
Have you tried editing videos using one of the apps we suggest? Let us know your thoughts on which apps you think are great for Twitter posts!
> Tricks > Solved: Twitter Error "Your media file could not be processed"
leave a comment
0 comment
Send
Comment ( 0 )
---
Video Your media file could not be processed